Customer Service Outsourcing Simplified
Customer service needs to be high-quality, flexible and efficient. Outsourcing can reduce costs and improve customer experiences by providing access to resources on-demand. But only if you make the right choices today.
When should you look for customer service outsourcing?
Customer service outsourcing has a role in almost every customer service operation. The reason for this is flexible access to resources and capacity.
Traditional and in-house
customer service
Outsourced and on-demand
customer service
Customer service outsourcing makes it possible to scale capacity to match demand. That means quality customer experiences without needing to overprovision agents — letting you do more with less. Outsourced partners also help scale a customer service function, ensuring that your growth is never limited by customer service capacity.
"The real question is to what degree should you outsource customer service?"
Option 1: Fully outsourced customer service
Remove the challenge of delivering quality outcomes. Gain scalable and personalised solutions that match the needs of your customers on-demand.
---
Who benefits most?
Businesses with limited in-house customer service experience.
Business with failing offshore customer service functions that need to be brought onshore.
Brands with rapid and substantial variations in demand, e.g. high-growth, variable-growth and seasonal businesses.
Option 2: Hybrid customer service
Pair core in-house expertise with cost-effective overflow capacity. Hybrid solutions remove limits on growth
and create a more flexible solution without giving up in-house control.
---
Who benefits most?
Businesses with existing and established customer service capabilities.
Businesses that sell luxury or big-ticket items, with customers that expect next-level product or brand support.
What to look for in a customer
service outsourcing provider
Scalability, cost-efficiency and high-quality agents.
Variable 1: Onshore vs offshore customer service outsourcing
Outsourcing" and "offshoring" are different, and should be done for different reasons:
---
Offshoring: The goal of offshoring is to capitalise on cheaper overseas labour markets and is generally accompanied by a loss in quality.
Onshore outsourcing: Undertaken to increase quality, improve price control, and gain flexibility.
Our recommendation: Unless purely motivated by cost, onshore customer service teams are the better and higher performing choice.
Variable 2: Fixed vs on-demand resources
Fixed contracts are relatively common, but undermine the flexibility that customer service outsourcing should provide. On-demand providers enable:
---
Greater efficiency: Dynamic alignment of capacity with demand maximises efficiency.
More flexibility: Scale on-demand and ensure customer service is never a limit on the growth of your business.
Our recommendation: On-demand customer service should be seen as a prerequisite, and the use of technology in customer service makes it an achievable goal.
Suggested resources: Check out our free report — The State of Customer Service.
Customer service outsourcing with Odondo
At Odondo, we provide flexible 24/7 access to customer service agents on-demand.
Pay-as-you-use flexibility
Customer query volumes are never consistent. Dial-up or dial-down resources on-demand with no fixed-term contracts (FTCs). Never pay for more than you need or struggle to match capacity.
Rapid deployment
We can have new agents onboarded and working in as little as 48-hours. This provides immediate outcomes for businesses that need fast access to customer service capabilities, while removing the need for an intensive recruitment process.
Highest-quality agents
We recruit agents with experience and industry expertise. We then provide campaign-specific training that is unique to your brand, delivering the consistency and quality of an in-house team.
Different channels for different customers
We provide access to phone support, email, LiveChat and more. You can mix and match to create a solution that fits your customers' expectations and the needs of your business.
Experience working with in-house teams
Outsourcing your customer service shouldn't be an "all-or-nothing" choice. Our agents will integrate themselves within your in-house operation and work as part of your team.
Outsourced but not offshore
We don't offshore customer service. Our agents are located in the UK to ensure the highest-quality experience for your customers, and our flexible WFH model ensures we can deliver quality while keeping costs low.
How we make this possible
Rather than relying on traditional call centres, our agents work from home, have flexible hours and are empowered to put their skills to best use. This distributed approach creates a three-part positive feedback loop that benefits you and your customers.
Better agents
Our agents have more experience, education, and an older average age. The best agents want workplace flexibility, and we can hire industry experts who wouldn't have traditionally worked in a call centre, e.g. stay-at-home parents, people with disabilities, retirees.
Lower costs
Without having to rent office space, overheads are reduced. It becomes possible to pay higher-quality agents while still reducing overall costs.
Great flexibility
Our internal flexibility makes it easier to accommodate flexible relationships with our customers, and improves our ability to find the right customer service agents.
The outcome is scalable and affordable quality. We are able to keep our operation entirely within the UK, attracting the best agents and keeping costs low.
Suggested resources: For more details, check out our free eBook — A New Approach to Customer Service
Our pricing packages at Odondo
Our Essentials package gives you support through the channel of your choice, during working hours.
Designed to support a modern customer experience. Engage with your customers over multiple channels and extended hours.
Full-scale customer support — 24/7. We've got you covered, no matter how many agents you need.
How to go from customer service
to customer experience
At Odondo, we provide flexible 24/7 access to
customer service agents on-demand.
Businesses end up defined by their customer service — whether they like it or not. 86% of customers have stopped buying from a brand because of a bad customer service experience, and 77% of customers are likely to recommend a company after a positive one. Good customer service is about ensuring each touchpoint within a customer journey creates a positive customer experience.
Accessibility: Customers expect the ability to get help and communicate by phone, email, and online resources. 58% of millennials expect to be able to engage with a brand whenever they choose and most customers aren't willing to wait more than 2 minutes in a phone queue.
Efficiency: Customers want quick solutions to their problems and easy access to information. The number one reason that customers dislike calling companies is an inability to talk to a real person — immediately. But they don't want to make a phone call when an FAQ or password reset tool will do.
Consistency: Customers don't want to have to repeat themselves if they need to call back later, or when they switch between LiveChat and a phone call. They want smooth and personalised experiences that add to the efficiency and accessibility of the experience.
Creating a solution
that's right for you
Customer service should be tailored to your specific needs. Use customer data and ask yourself questions like:
What is the average age of my customer?
Is 24-7 support essential or "nice to have"?
What volume of customer service calls are expected?
Does the need for customer support fluctuate regularly? How often/how much?
Do my products and services require technical support teams?
How are customers trying to engage with my brand today?
Building a flexible customer service experience will allow you to accommodate the needs of every individual customer. However, by finding out more about the specific needs of your average customer, you can prioritise investment to match your customer base and determine what you have to get right, and what you can strive to achieve in the future.
Use outsourcing to benefit
both you and your customers
Customers want flexible access to fast answers. Businesses want lower costs and happier customers. Quality outsourcing and distributed customer service both help deliver improved outcomes at reduced costs. When executed together, these trends in customer service complement one another, driving an even better outcome.
Our entire business model is built around providing flexible access to the highest-quality outcomes. Pioneering the distributed customer service centre, our service options optimise the benefits of quality-driven outsourcing.
No matter how you approach customer service, it's time to rethink best practices. Customer service defines how brands relate to customers, and building scalable and long-term solutions fit for the digital economy is essential. We believe that distributed outsourcing is the key to a positive future. If you want advice about improving your outcomes, get in touch — we'd be happy to help.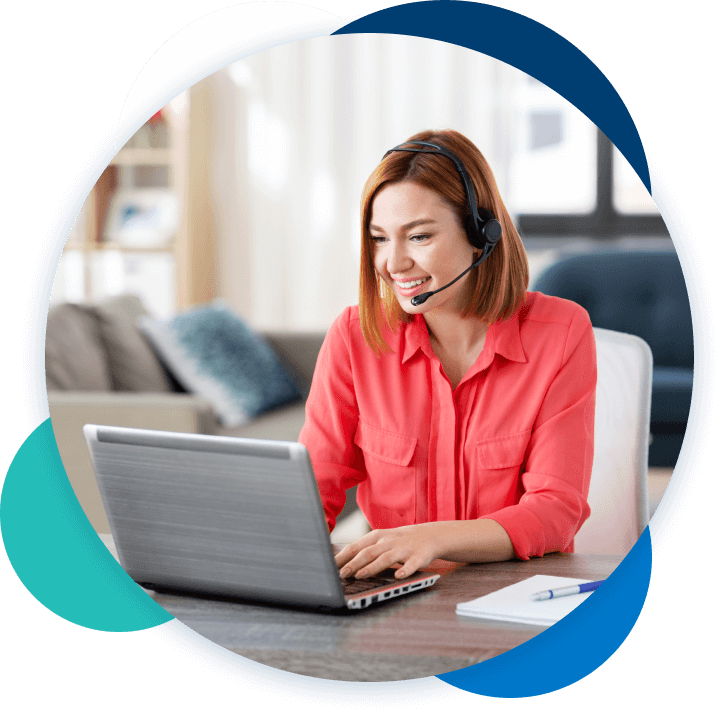 Customer service resources centre
Free eBook: A New Approach to Customer Service
Learn how to re-imagine traditional customer service models using the blueprint for distributed customer service pioneered by Odondo.
Free eBook: The State of Customer Service in 2021
A statistical analysis of the current customer service landscape. Learn about your customers and how customer service needs to change to adapt.
Odondo vs Sitel vs Sensee: How to Outsource Customer Service The Right Way
An in-depth comparison of the top customer service outsourcing providers.
Customer Service Outsourcing Pricing Guide for 2022
An overview of all the costs associated with different types of customer service outsourcing.
Different Types of Customer Service: And When They Matter Most
Learn about different levels of customer service and support channels.
Seasonal Customer Service Planning: Year-round Customer Service Improvement Strategies
A guide to variable customer service planning, and how to optimise outcomes during seasonal spikes.
In-house vs Outsourcing Customer Service: What's Better for Your Business?
A comparison of in-house and outsourced customer service options.
New Trends in Customer Service: 2021 and Post-COVID
Critical trends in customer service, and advice on how to use them to your advantage.
See what makes Odondo different for yourself
Book a call to learn more about how Odondo could help your business deliver a positive customer service experience that grows with you.